Description
Classic U shaped kickstand, lightweight and portable 2-in-1 tablet
We already know that the device sports a very slim body at just 9mm and its weight reaches just 780g (~1.72lbs) making it very easy to carry around. Also, it supports a magnetic keyboard dock like the previous model.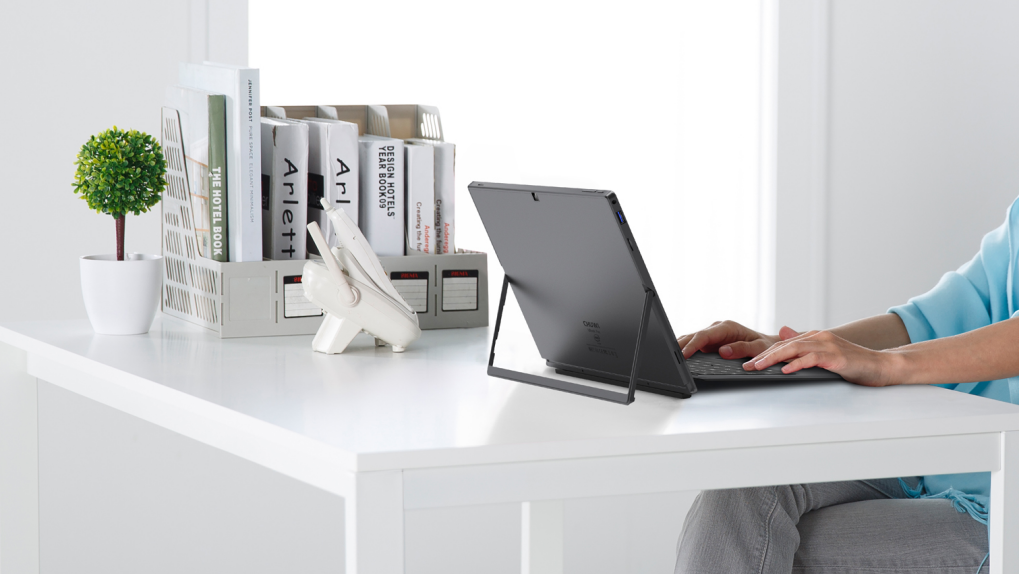 Contrary to Surface Pro's metal plate kickstand, the UBook Pro features a more light-weighted u-shaped kickstand which is more agile and convenient. Moreover, this technique left free space for a bigger battery and a better cooling system. The speakers are hidden on each side of the device offering better volume and sound quality than normal tablets' speakers.
Backlit Keyboard!

Special designed type cover only for UBook Pro.

Full-size keyboard, only for a more comfortable and fluent typing experience.

Backlit for precise typing in dark or dim light.This function offers you a visual impact that enhances your gaming atmosphere.

No Dongle, No Trouble!

Dual USB-A 3.0, Micro HD for video output, 3.5mm headphone jack, TF card slot,Type-C for Power/data,DC port for DC charging.

All these I/O ports make a real decent productivity tool for you.

H6 Stylus——A Natural Writing Experience!

Accompanied with the 2048 levels of pressure sensitivity, the HiPen H6 will supercharge

your creativity.

With palm blocking technology, it has been carefully designed to bring youa truly natural writing experience.
 Intel®Core™m3-8100Y Processor!

Intel's new generation of ®Core™m3-8100Y processor, 64-bit quad-core four threads,has 1.3X improvement onperformance compared to its predecessor.

With the new Goldmont architecture, 14 nanometer process, and clocking atup to 2.4Ghz, it performances faster and runs at a more responsive speed.

Right Mode for the Right Moments!

With the U-shaped kickstand and docking keyboard, Ubook pro can easily transform into tablet, laptop, display board, perfectly fits your office, home, and travel.

The U-shaped kickstand not only saves a lot of internal space, but also significantly reduced the weight of the whole chassis.

8G LPDDR3 Ram and 256G SSD ROM!

8G LPDDR3 Ram offers you a high-impact gaming experience, ensures smooth operation and stable multitasking.

Using feeling256G SSD ROM Storage Capacity Provides room to store pictures, videos, music and more.
Dual 2.4GHz / 5GHz Wi-Fi and BT 5.0!

Equipped with dual 2.4GHz / 5GHz Wi-Fi technology and integrated BT 5.0 technology, which offers you a smoother viewing experience.

5mp Rear Camera, 2mp Front Camera!

Each Android tablet PC comes with a 5mp rear camera, 2mp front camera, and stereo speakers to help enhance your movie watching, music listening, or work on-the-go experience.

5000MA——Long Battery Life!

With the latest Intel ULV processor, the 37wh built-in battery that can last through 4-8 hours.

Watching videos, playing games and working will never be a problem.

12.3 Inch 1920*1080 IPS Screen!

Tablet with a large HD 12.3 inch 1920*1080 IPS screen resolution offers accurate colours, rich crisp content and supports for Games, Video, which makes a great viewing experience for work and entertainment purposes.

The u-shaped kickstand has a maximum opening angle of 145° and can transform the tablet into a laptop, workstation or tablet, offering flexibility to its user in every situation.
The 12.3″ FHD IPS display with 3:2 aspect ratio brings larger workspace
Of course, the company's best device to date should come with the corresponding display and Chuwi chose a fully-laminated 12.3″ FHD IPS panel with 3:2 aspect ratio that offers a vivid and vibrant experience to the user whether he's working with pictures or watching videos.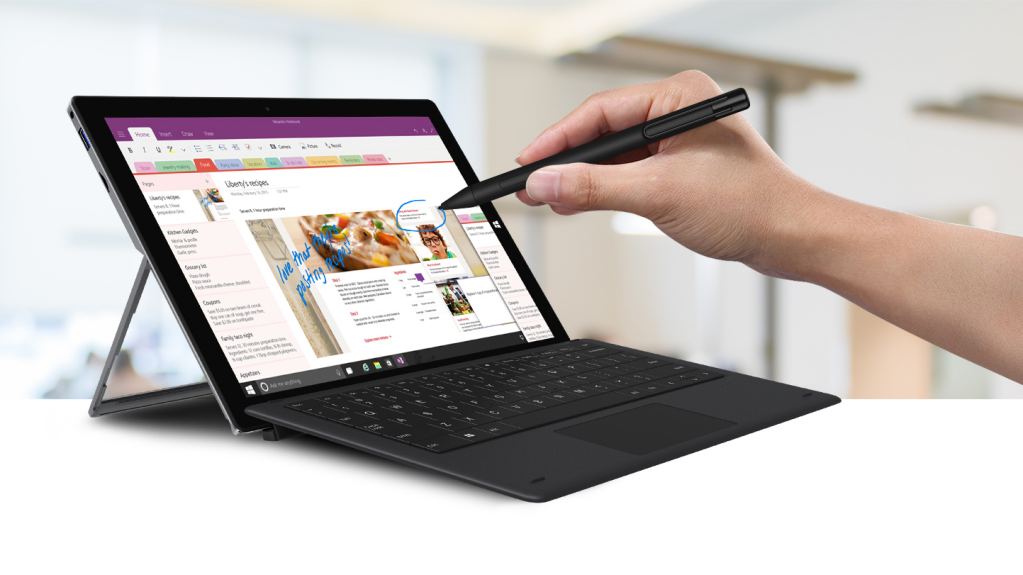 The 3:2 aspect ratio is vigorously promoted by Microsoft for the Windows 10 OS as it is the golden ratio for productivity when typing, web browsing, coding, etc. What's more, the touch panel supports 2048 pressure-sensitive stylus.
Intel's 8th Gen Core™ m3-8100Y
Besides the looks and build quality, the UBook Pro comes with the powerful Intel Core M3-8100Y processor that has an overall performance improvement of more than 50% over the previous gen. The processor is built with Intel's advanced 14nm+ manufacturing process, it's a dual-core/four threads chip and the highest frequency reaches up to 3.4 GHz.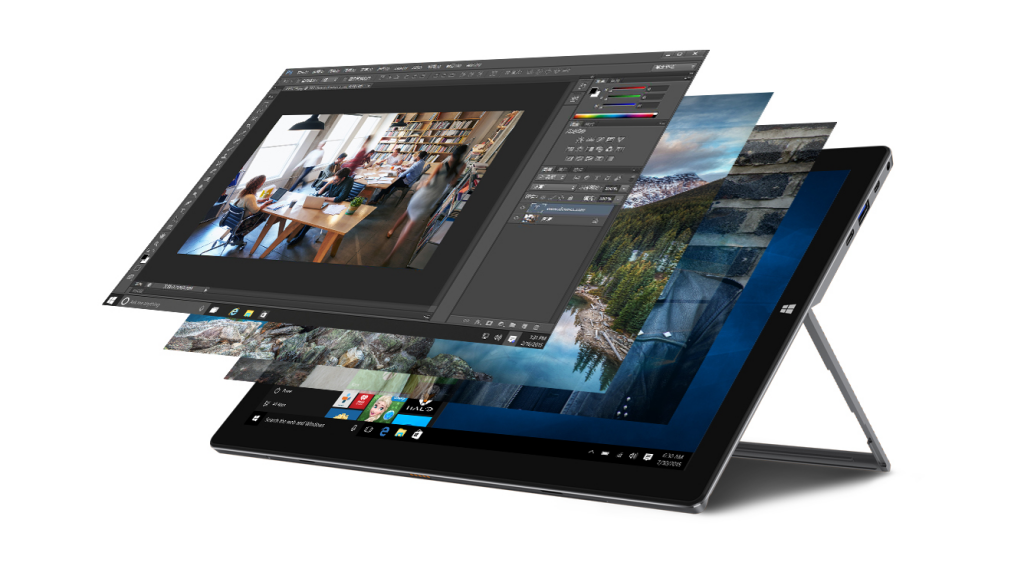 Also, with the Intel UHD Graphics 615, hardware decoding of 4K video is supported and it also provides a good experience in video editing and even some heavy games.
1. Variety & Ultra-portable Design —— U-shaped kickstand design are able to freely adjust between 0 to 145 °. Accompanied with the detachable backlight keyboard dock, you can easily switch between tablet or laptop mode to meet the different scenario needs.
2. At an ultra-slim 9mm thick and weighing in at a mere 780g,the ultra-light design means that the CHUWI UBook Pro is effortlessly portable and can be taken anywhere with ease.
3. 12.3 Inch IPS Fully Laminated Display——Featuring a 12.3-inch, FHD, IPS fully laminated display on a remarkable 3:2 aspect ratio, CHUWI UBook Pro brings you the ultimate visual experience.
4. In addition, UBook Pro comes bundled with a stylus offering 4096 levels of pressure sensitivity, making your writing or drawing more accurate and greatly improves your productivity.
5. Intel Core N4100 Processor——Powered by the Intel Gemini Lake quad-core processor, offering 64-bit 4-cores, 4-threads, and a turbo frequency of up to 3.4GHz, which can easily handle daily office tasks and greatly improve overall productivity.
6. Backed by Intel UHD graphics 615, UBook Pro can effortlessly decode 4K video and will also run stand-alone games. Furthermore, the fan-less design provides a quiet environment while simultaneously maintaining strong performance.
7. Fast Running, Large Storage——Engineered with low power 8GB LPDDR3 memory and a high-speed 256GB SSD, operating at 5X faster than a conventional HDD, UBook Pro can offer a seamless multitasking experience.
8. Additionally, UBook Pro fast-boots in only 5s, and the TF card slot allows you to further expand your internal storage, adding further to the flexibility of UBook Pro.